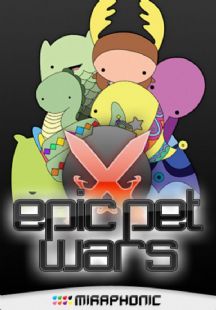 Epic Pet Wars
Adopt a unique & exclusively designed pet to join the thousands training, battling, and customizing in this FREE Massively Multiplayer Online RPG
Features:
- Adopt pets with unique strengths and weaknesses and looks that match your style
- Fight & strategically use items and power-ups during LIVE battles against other players with fully animated battle sequences. Don´t just "instantly win or lose" (how lame!).
- Deck out your pet with a slew of original weapons, armor, and accessories that dramatically improve its strengths in and out of battle. New items added weekly!
- Play with your pet using the animated home screen.
- Unlock Achievements that show how you´ve conquered Epic Pet Wars inside and out.
- Compete against thousands that span the iPhone/iPod Touch, epicpetwars.com, and Facebook. All networks are interlinked!
- Top Rankings for the best players allow you to take down the leaders and destroy their ranking and steal their cash.
- Interact and chat with other players via our instant comment system and get notified in real-time of new messages. Send mass messages to your entire posse to organize an assault!
- Invite friends into your Posse and become a stronger fighter and train more efficiently through e-mail, friend codes, Facebook, and more.
- Your Newsfeed keeps up-to-the-minute info of all the latest events that have happened to your pets.
- Months of action, deep and vibrant gameplay with new features, animal races, itmes, and achievements added all the time.